Tattoos!

Vanessa Ferrari
source
We've seen quite a surge in gymnasts getting tattoos. Full Twist links to pictures of previous medalists and 2012 US Alternate Alex Naddour
here
but also John Geddert, Kieran Behan, and Jake Dalton
here
.
Erika Fasana
of Italy recently posted a picture of her torn up hands from bars on facebook. What did I notice? The tattoo.
source
Teammate
Carlotta Ferlito
also got a tattoo.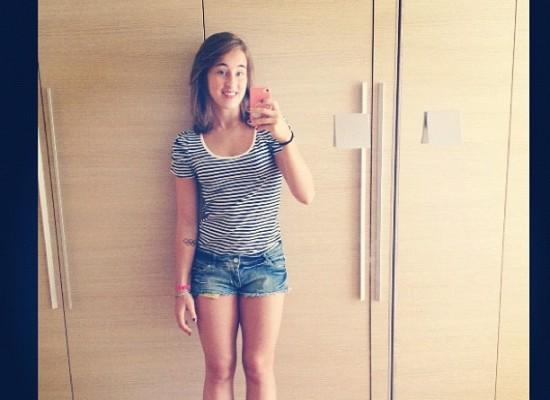 Carlotta Ferlito and MTV Italy twitters (Ginnaste 2 is starting soon)
Our favorite Italian beam worker,
Elisabetta Preziosa
, also joined the group of inked Italians.
Teammate
Giorgia Campana
may have been the first of the bunch to get her tattoo. Her picture dates back to August 27th! Vanessa Ferrari already had an ankle tattoo prior (first picture above) to the Games making all of Team Italy inked.
Youna Dufournet
also got her's on the same day, August 27th, and it was also in color. Youna's is on her torso, however (or so it seems).
Jordyn Wieber
of the USA joined the tattoo trend and also joined her coach, John Geddert. Wieber has hers on her wrist with London in script just below it. Perhaps she will add Rio below it should she decide to continue.
source
[EDIT 11/2012: Aly does NOT have a tattoo. Check the comments]
It remains to be seen what was going on with
Aly Raisman
. While the Fierce 5 were in New York City, Aly Raisman seemed to have a tattoo on her right wrist. Since then, she's claimed that she doesn't have one and people have said it was henna or some other non-permanent. Some have also said that this would be reason enough for her not to be buried in a Jewish cemetery, albeit a traditional one. Quoting one
source
, "While many Olympic athletes, such as fellow teen phenom 2012 Olympic swimming gold medalist Missy Franklin, mark their achievement with a tattoo of the Olympic rings, "I'd rather just have this necklace. It has the Olympic rings on it," she said of a gold medallion given to her by a friend. "I'm not a tattoo kind of person."
News from Team Canada is that
Brittany Rogers
now has a tattoo as well as of September 18.
"I think I broke the persons hand that I was holding haha but it wasn't as painful as I thought! Its kind of a burning stinging sensation. Mine took about 10 minutes. I was originally going to get it just below my scar but they said it wouldn't heal well because the color wouldn't hold due to thickness of skin. So I decided right above [my scar]. It represents a journey and that [the Olympics] is the light at the end of the tunnel."
In April 2010, Rogers fractured her medial malleolus (touch the inside of your right ankle, that bone) and was not able to fully resume training until February 2011 after undergoing surgery when it was not healing properly. Rogers did not make the 2011 World Team but did make the 2012 team for the Test Event and the Canadian Olympic Team. She competed on vault and bars in the team final and placed 7th in the vault event finals. What an amazing comeback!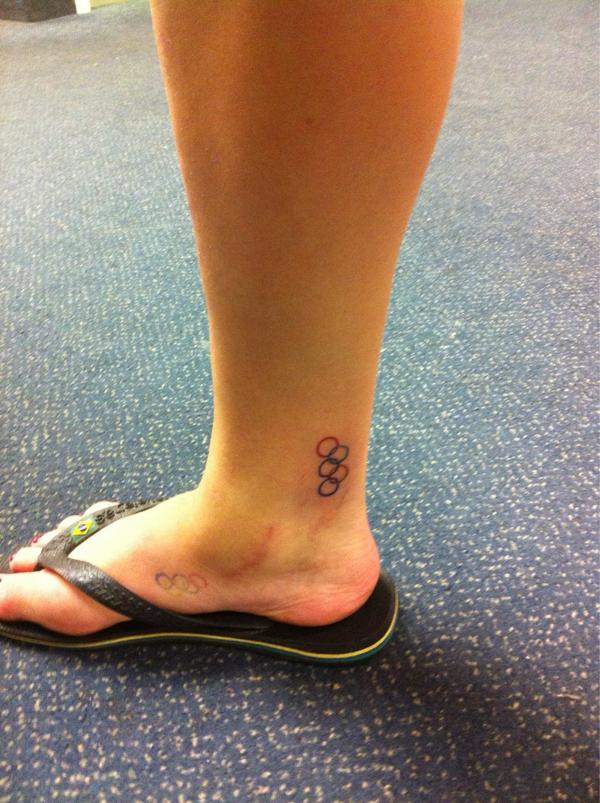 (Below her ankle is just marker from when she was deciding where to place it.)
source
Word on the block is that other members of Team Canada might get tattoos too. We'll just have to wait and see. Congrats to all the athletes that competed at the Olympics.
Facebook:
Arabian Punch Front
Twitter:
@ArabianPF_blog
Tumblr:
Arabian Punch Front